2016 Infiniti QX30 Premium Active Crossover Made its Global Debut

2016 Infiniti QX30 Premium Active crossover was unveiled simultaneously at the 2015 Los Angeles Motor Show an Guanzhou International Motor Show and confidently demonstrated what Infiniti brand holds for the future.
This sweetie is especially created for the new generation of premium buyers who do appreciate a neatly-done design and the precisely fine-tuned and powerful drivetrain system. And the QX30 surely delivers such precision. So, let's check out what the premium Infiniti crossover has to offer.
This vehicle surely holds a special position in the segment and links the premium compact rivals and the large crossover models in a quite interesting way. And offering such goodies as enhanced safety and comfort features, this crossover surely will stand out from the crowd.
Exterior Design
As you might remember, the QX30 Concept, unveiled at the 2015 Geneva Motor Show, combined the lines of a coupe with the aggressive stance of an AWD crossover machine. And these features are also present within the market version.
The exterior of the sweetie shows dramatic curves and elegant lines that together emotionally evolve into new shapes and looks. And with the double-arch grille with three-dimensional mesch draws the attention to the badass-looking face. A face that further reveals its aggressive nature with the premium headlamps.

Furthermore, the combination of a low-slung roofline and elevated stance contribute to this striking visual impact. The lines follow a special double-wave pattern that goes over the fenders, across the bodyline and ends into the massive shoulders. This also gives the vehicle more authentic and "alive" look, rather than metallic and mechanical expression. Additional exterior changes and features are the special front and rear restyled bumpers, grained side sills and a special satin chrome-plated insert for a premium metallic finish.
Interior Design
The mean approach is further continued from the outside to the inside of the QX30. The interior design bravely The asymmetric surfaces feature special wavy shapes that give that "in-motion" feel and contribute to further pleasure and comfort of diving.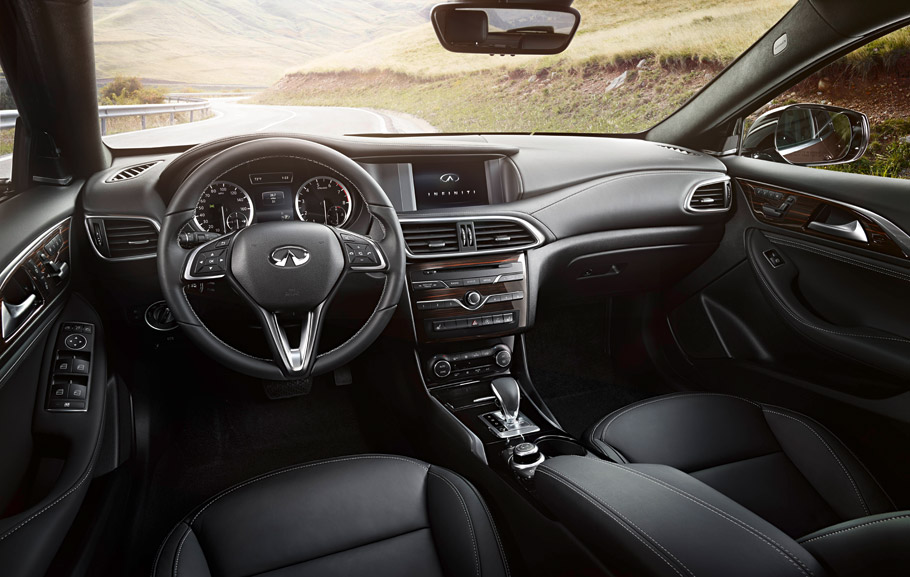 Of course, Infiniti geared the cabin with premium materials and components that make it a modern-looking and luxurious place. Furthermore, there are numerous custom-designed components that can be ordered with every QX30 trim level. All this means that every customer can personally choose which features he wants in his new and shiny crossover and which he won't need. Yep, high levels of personalization are available, so don't worry if it happens to not like any part of the vehicle.
SEE ALSO: Autumn is Versatile in Colors and so is the Infiniti QX80 by LARTE Design [VIDEO]
Drivetrain System
QX30 comes with special drivetrain system that is both versatile and powerful. The crossover comes with special chassis, made to offer smooth ride and confident handling in tricky situations. The development team also geared the special vehicle with flexible springs and rear anti-roll bar that are now stiffer and do ensure flat ride.
QX30 comes with an intelligent AWD system that can confidently handle different road situations, slippery surfaces, wet surfaces and numerous more. For, example, if sensors detect wheel slip, the special brake is activated and there is additional torque force sent to the gripping wheel for additional stability and flexibility. Cool, right?

Another feature that is part of the standard equipment is the seven-speed dual-clutch gearbox. It can intelligently pre-select gears, so the next gear is always ready to go. Also, it delivers boosted acceleration at any speed and in any gear, while, at the same time, reduces the lurching while in motion and between shifts.
And depending on the market, there will be wide choice of diesel and gasoline engines, but details will be announced closer to launch.
Additional Equipment
QX30 is believed to be one of the safest vehicles in its class, thanks to the wide range of active safety technologies. There is also a special Around View Monitor with moving objects that will give further information about vehicle's condition. And of course, the crossover is geared with Intelligent Parking Assist technology, Intelligent Cruise Control and numerous more that will be announced later this or next year.
2016 Infiniti QX30 Premium Active crossover will go on sale in the middle of 2016.
Source: Infiniti