2013 Mitsubishi Outlander PHEV - The World's first Plug-in hybrid SUV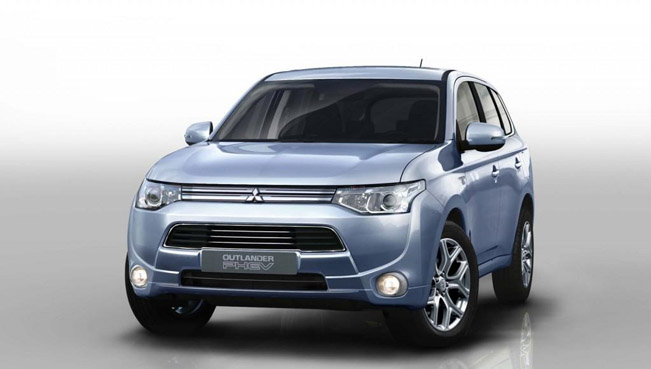 Mitsubishi has released more details about the Outlander PHEV, which will make its official debut at the 2012 Paris Motor Show.
The Outlander PHEV uses MMC's own Plug-in Hybrid EV System powertrain derived from 100% electric systems used on the i-MiEV and other MMC all-electric vehicles. The Outlander PHEV is the world's first plug-in hybrid SUV, and brings together the environmental performance and quietness that distinguish EVs while delivering the utility and on- and off-road performance associated with 4WD sport utility vehicles and the cruising range of a conventional ICE-powered vehicle.
It is powered by a 2.0-liter four-cylinder petrol engine and two electric motors. The overall range is up to 880 km (547 miles) and 55 km (34 miles) on electricity alone.
In terms of efficiency, Mitsubishi expects a combined fuel economy rating 1.6 litres per 100km, which is 144 mpg US.
The Outlander PHEV has Three Drive Modes for Optimal Efficiency.
EV Drive Mode
EV Drive Mode is an all-electric mode in which the front and rear motors drive the vehicle using only electricity from the drive battery. With zero on-road gasoline consumption and zero CO2 emissions the driver can enjoy quiet and very eco-friendly performance in this mode.
Series Hybrid Mode
In Series Hybrid Mode the gasoline engine operates as a generator supplying electricity to the electric motors. The system switches to this mode when the remaining charge in the battery falls below a predetermined level and when more powerful performance is required, such as accelerating to pass a vehicle or climbing a steep gradient such as a slope.
Parallel Hybrid Mode
In Parallel Hybrid Mode the gasoline engine provides most of the motive power, assisted by the electric motors as required. The system switches to this mode for higher-speed driving when the gasoline engine operates at peak efficiency.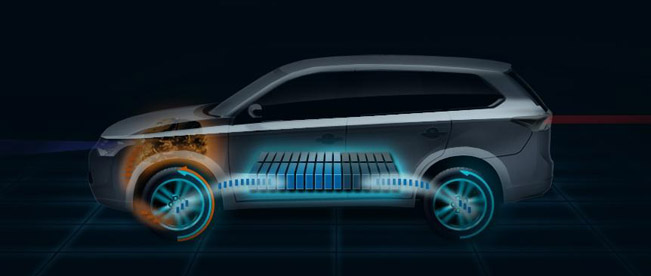 Source: Mitsubishi