2013 BMW 5-Series 518d - UK Price £29,830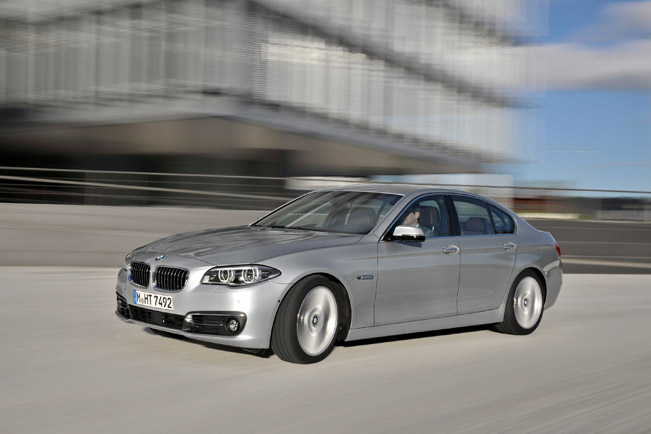 BMW is now offering 2013 5-Series 518d available as Saloon and Touring model. The luxurious passenger car minimises buying and operating costs, and will be of particular appeal to UK business drivers.
The engine is a 2.0 liter common rail turbo diesel with 143HP (106 kW) and 360Nm (267 lb-ft) of torque. The fuel consumption is sensational – 62.8 mpg (Saloon) and 58.9 mpg (Touring) – 4.5 to 4.8 liters per 100 km on combined cycle. The emissions are just 119 g/km CO2 (Touring 127g/km). Other important feature is that the 518d already complies with EU6 regulations. 0-100 km/h in 9.7 seconds for the Saloon and 10.1 seconds for the Touring.
Standard equipment has also been enhanced to include Business Navigation, Xenon headlights, BMW Emergency Call and Teleservices. The Saloon and Touring also have new-style tail lights with slender, elegant LED light strips and along with an additional crease in the rear apron they emphasise the car's width and sporting stance.
2013 BMW 5-Series 518d SE costs £29,830 and the M Sport is £32,630. The Touring 518d SE is £32,155 and Touring 518d M Sport costs £35,080.
Source: BMW