2012 Volkswagen Jetta Hybrid
2012 Volkswagen Jetta Hybrid is exhibited at the 2012 North American International Auto Show in Detroit.
The new highly efficient Jetta is powered by astonishing powertrain including a 1.4-litre TSI 150 PS petrol engine and a 27PS (20 kW) electric motor. This result in great improvement of the range – 45 mpg US (54 mpg Imp.) and nice performance – 0 to 60 mph in just below 9 seconds.
Furthermore, the Jetta Hybrid can go up to 2 km on pure electricity with speeds up to 70 km/h (44 mph).
The battery is made up of 60 individual cells, each with an energy capacity of five Ah.  Together they produce a nominal voltage of 220 Volts and an energy capacity of 1.1 kWh and weigh 38.5 kg.  Cooling is provided by an integrated fan, operated by the battery's own management system that performs diagnostic, monitoring and safety functions, including disconnecting the battery in the event of an accident.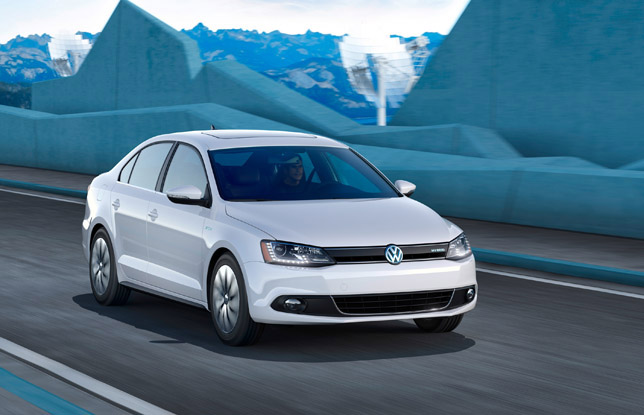 The Jetta Hybrid weighs only 100 kg more than the non-hybrid Jetta at less than 1 500 kg in total.
Externally, the Jetta Hybrid can be identified by aerodynamic modifications including a new front spoiler, a rear diffuser and a rear spoiler that help to improve the car's Cd value by 10 per cent.  There are also new headlights with LED running lights, LED rear lights and unique 15-inch alloy wheels with low rolling resistance tyres.  'Hybrid' badges adorn the front wings, bootlid and modified front grille, where the Volkswagen logo is presented on a blue background for the first time.
The interior of the Hybrid is very much like that of any other Jetta, although the electric drive, along with a newly designed exhaust system, an acoustic windscreen and thicker front side windows help to make this the quietest vehicle Volkswagen has ever offered in this class.
One key interior difference is in the instruments.  If the driver selects the 'Hybrid' menu in the multifunction display, the current drive mode is shown, while a meter indicates energy flow via arrows.  The same screen also shows the battery charge state.  Beneath the energy flow diagram is what is known as the ePower meter, which indicates the power provided by the electric motor.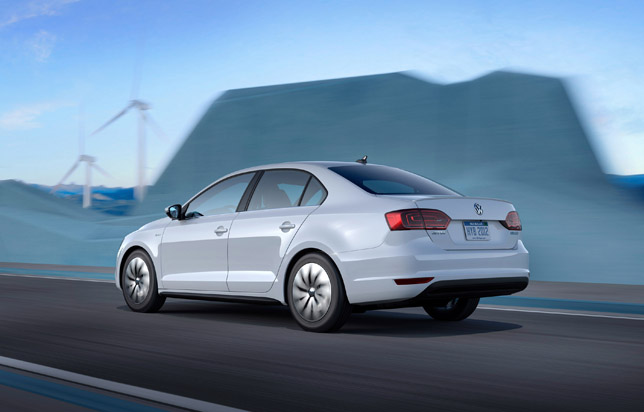 The tachometer is replaced by the Power meter, a multifunction display on the left of the instrument cluster.  This informs the driver of the operation of the hybrid system: Ready, Charge, Eco, Boost or TSI.  The audio system, meanwhile, has a zero emissions menu.  This offers a graphical display of the past 30 minutes of driving time, with a bar showing emissions each minute: a full, 100 per cent bar represents no emissions at all.
Standard equipment on SE model features a 2Zone climate control system that works without the TSI engine running, a Premium 8 sound system, Bluetooth phone integration, MDI interface for iPod connectivity and a leather-wrapped multifunction steering wheel.  Moving up to SEL1 specification adds 16-inch alloy wheels, a glass sunroof, RNS 315 satellite navigation, electric driver's seat adjustment, heated front seats and keyless entry.  The top SEL2 specification adds to this further, with 17" wheels, fog lights, bi-xenon headlights with cornering function, a reversing camera and a 400-Watt Fender sound system.
Source: Volkswagen