2012 SAAB 9-5 Price - £26 995
Saab has introduced the new 2012 9-5 models, both Saloon and Sport Wagon. The new vehicles feature a series of enhancements, including further reduced CO2 emissions for all engines.
2012 Saab 9-5 Sport Wagon is expected to become a major player in a vehicle segment where Saab, with its tradition for designing sporty but practical vehicles. The car benefits from reduced CO2 emissions and improved fuel consumption.
"The latest 9-5 range offers customer benefits across the board, with lower emissions, improved fuel consumption, enhanced cabin features and even better driving dynamics," commented Saab Great Britain Managing Director Charles Toosey.
"The New 9-5 SportWagon is also a stunning addition to the range which substantially broadens the appeal of our product offer. It builds on Saab's strong brand tradition for versatility, and will provide a compelling choice for customers who value distinctive design, premium quality and great flexibility.", he added.
The interior boasts metallic-like trim finishes, Satellite navigation and digital radio (DAB).
The engine range includes a choice of two diesel and three petrol engines, provides a power bandwith from 160HP to 300HP.
OTR prices - from £26 995 to £39 195.
Check the price lists in the tables, below!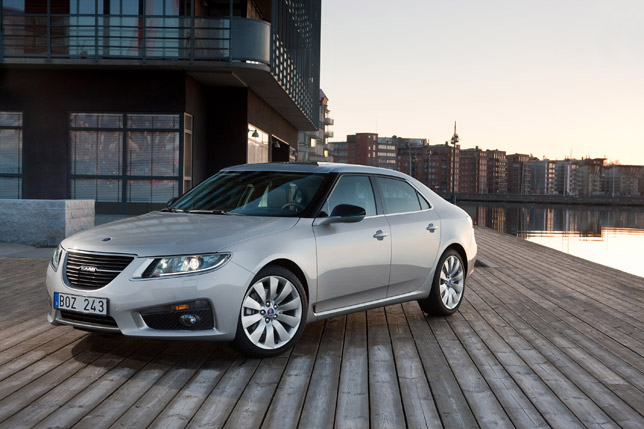 2012 Saab 9-5 Saloon Price List:
Trim

Fuel

Engine

HP

Transmission

CO2 (g/km)

On-the-Road

Price (OTR)

VECTOR SE
Diesel
2.0 TiD
160

160

Manual 6-speed

Automatic 6-speed

125

171

£26,995

£28,640

2.0 TTiD
190
Manual 6-speed
142
£28,495
2.0 TTiD XWD
190
Manual 6-speed
170
£30,785
Petrol
1.6 T
180
Manual 6-speed
178
£27,275
2.0 T
220
Manual 6-speed

Automatic 6-speed

181

204

£28,680

£30,325

2.0 T XWD
220
Manual 6-speed

Automatic 6-speed

196

215

£30,965

£32,480

AERO
Diesel
2.0 TTiD
190
Manual 6-speed
142
£30,995
2.0 TTiD XWD
190
Manual 6-speed
170
£33,285
Petrol
2.0 T
220

220

Manual 6-speed

Automatic 6-speed

181

204

£31,180

£32,825

2.0 T XWD
220

220

Manual 6-speed

Automatic 6-speed

196

215

£33,465

£34,980

2.8 T XWD
300
Automatic 6-speed
234
£37,995
2012 Saab 9-5 SportWagon Price List:
Trim

Fuel

Engine

HP

Transmission

CO2 (g/km)

On-the-Road

Price (OTR)

VECTOR SE
Diesel
2.0 TiD
160

160

Manual 6-speed

Automatic 6-speed

128

175

£28,195

£29,840

2.0 TTiD
190
Manual 6-speed
146
£29,695
2.0 TTiD XWD
190
Manual 6-speed
174
£31,985
Petrol
1.6 T
180
Manual 6-speed
182
£28,475
2.0 T
220
Manual 6-speed

Automatic 6-speed

185

206

£29,880

£31,525

2.0 T XWD
220
Manual 6-speed

Automatic 6-speed

200

219

£32,165

£33,680

AERO
Diesel
2.0 TTiD
190
Manual 6-speed
146
£32,195
2.0 TTiD XWD
190
Manual 6-speed
174
£34,485
Petrol
2.0 T
220

220

Manual 6-speed

Automatic 6-speed

185

206

£32,380

£34,025

2.0 T XWD
220

220

Manual 6-speed

Automatic 6-speed

200

219

£34,665

£36,180

2.8 T XWD
300
Automatic 6-speed
238
£39,195
Source: Saab