2012 Mercedes-Benz Sprinter
The new 2012 Mercedes-Benz Sprinter is ready to hit the market. The vehicle is put on tough, practical testing, which focuses on the key customer requirements of safety, economy and comfort.
Some of the innovations include a 7-speed torque-converter automatic transmission. So, the new Sprinter is the first van in the world to be available with it. The fuel consumption is reduced even further by the BlueEFFICIENCY package and a higher axle ratio. Other very important technology is the standard fitted ESP - stability control program.
Like all new components of Mercedes-Benz vehicles, these new features have to demonstrate their ability to withstand extreme testing in unforgiving conditions near the Arctic Circle. The testing program includes starting and running at minus 30 degrees Celsius and even lower. Everything is tested, from the cold-start of the engine equipped with the BlueEFFICIENCY package through the new 7-speed automatic gearbox and other control systems. Their sensors have to be tuned with absolute precision to ensure that the systems are always ready to intervene with corrective measures – regardless of how hostile the operating conditions may be.
The fuel consumption is one of the most important features for the working vehicles. So the new Sprinter can be equipped with BlueEFFICIENCY package, which cuts it with 0.5 liters per 100 km. It comprises of the ECO start/stop function, tyres with reduced rolling resistance, the ECO power steering pump, alternator management and an electrically controlled fuel pump. The result is excellent - 7.4 liters per 100 km.
Stay tuned for full specs and prices.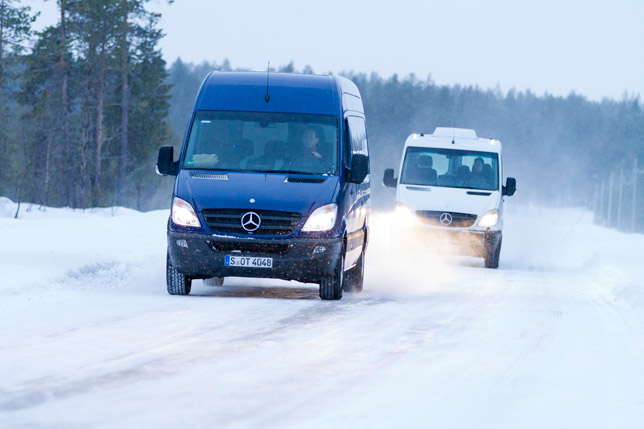 Source: Mercedes-Benz