2012 BMW F10 Active Hybrid 5
BMW has released full specs of the new F10 ActiveHybrid 5. The highly efficient executive saloon has which a combustion engine and electric motor providing perfect dynamics at decent price.
The powertrain includes a BMW TwinPower Turbo six-cylinder in-line engine, an electric drive system and an 8-speed automatic gearbox. The latest generation of BMW ActiveHybrid technology also adds precisely controlled – and therefore extremely effective – intelligent energy management to the mix.
The result is more than satisfying – 340PS (250 kW) and 450Nm (332 lb-ft); from 0 to 100 km/h in 5.9 seconds and a top speed of 250 km/h (155 mph) or 60 km/h (37 mph) only on electric power.  The average fuel consumption is 6.4 to 7 liters per 100 km (40-44 mpg imp.) and CO2 emissions: 149 – 163 g/km.
The combustion engine is the famous twin-turbocharged 3.0 liter in-line six-cylinder petrol with  306PS (225 kW), while the electric motor develops 55PS (40 kW), which is supplied by a high-performance lithium-ion battery integrated into the luggage area.
The ActiveHybrid 5 comes with ECO PRO mode including coasting and intelligent energy management. Charging of the high-performance battery primarily takes place during coasting or braking, the electric motor performing the role of a generator feeding energy into the high-voltage battery.
The selection of interior colours, upholstery and interior trim elements reflects the range offered for the other BMW 5 Series Sedan variants. And added to the standard-fitted array of comfort-enhancing features is not only the Navigation system Professional, but also a 4-zone climate control system with stationary air conditioning. A wide range of driver assistance systems and BMW ConnectedDrive mobility services, as well as virtually all the other optional extras available for the conventionally powered BMW 5 Series Sedan, can also be specified for the BMW ActiveHybrid 5.
The BMW ActiveHybrid 5 will be produced at BMW Plant Dingolfing – the BMW Group's largest production plant worldwide – alongside the other BMW 5 Series models, ensuring that it benefits from the same high standards of quality and production efficiency. The integration into the production process of BMW ActiveHybrid technology is underpinned by the intelligent combination of state-of-the-art automated process engineering and the skilled craftsmanship of specially trained employees.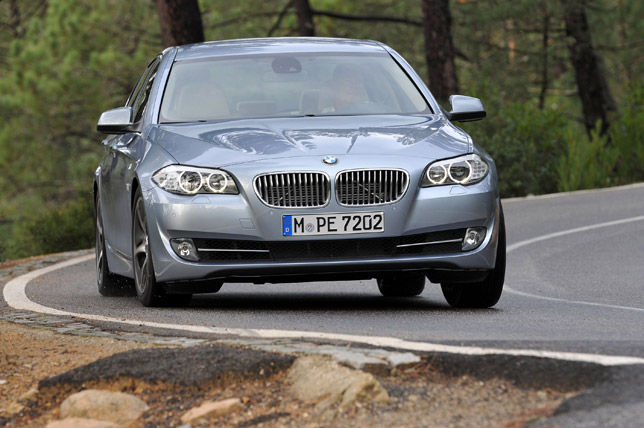 2012 BMW F10 ActiveHybrid 5:
Six-cylinder in-line petrol engine, BMW TwinPower Turbo technology with twin-scroll turbocharger, High Precision Direct Injection and VALVETRONIC; Displacement: 2,979 cc, output: 225 kW/306 hp at 5,800 rpm, Max. torque: 400 Nm (295 lb-ft) at 1,200 – 5,000 rpm. Synchronous electric motor; output: 40 kW/55 hp, Max. torque: 210 Nm (155 lb-ft); Combined output: 250 kW/340 hp, Max. combined torque: 450 Nm (332 lb-ft). Acceleration [0 – 100 km/h (62 mph)]: 5.9 seconds, Top speed: 250 km/h (155 mph), Top speed purely on electric power: 60 km/h (37 mph). Average fuel consumption*: 6.4 – 7.0 litres/100 kilometres  (40 – 44 mpg imp),  CO2 emissions*: 149 – 163 g/km,  exhaust standard: EU5. *As per the EU test cycle, figures may vary according to the tyre format specified
Source: BMW