2012 ABT Volkswagen Tiguan
Abt Sportline now offers full tuning program for the latest Volkswagen Tiguan. Although, the crossover has been on the market for several months, the tuner are ready with a number of modifications, which can make your vehicle unique.
The exterior package includes ABT front grill, ABT door strip attachements, ABT rear skirt set   with exhaust system and ABT rear wing. The stance is improved by installing ABT suspension springs, which lower the vehicle. There are also different ABT designer light alloy wheels in 18" to 20" available also as complete set of wheels with sports tyres.
The tuner provides a wide range of engine upgrades for: the 2.0 liter TDI, the 1.4 liter TSI and the 2.0 liter TSI.
The 2.0 liter TDI diesel can be boosted to 170PS and 195PS. The small 1.4 liter turbocharged petrol can develop up to 210PS. The mighty 2.0 liter TSI can produce either 210PS or whopping 250PS. Really an impressive results.
The new Tiguan is part of the SUV family of ABT – and like the Touareg, the Q7 and the Q5, as well as the Q3 which is currently still in the starting blocks, the driver can look forward to the fact that his/her car can do a bit more.
Check out the specifications, below!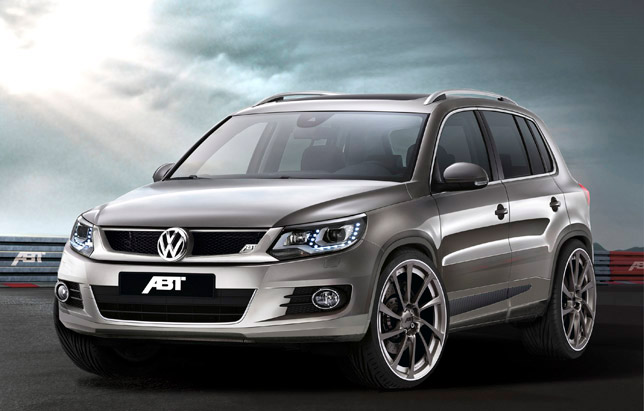 2012 ABT Volkswagen Tiguan FrontSide
The new ABT Tiguan:
ABT ENGINE TECHNOLOGYEngine: 2.0 TDI, 1.968 ccm capacity Performance tuning: ABT POWER Performance: 170 HP/125 kW (standard: 140 HP/103 kW)
ABT ENGINE TECHNOLOGYEngine: 2.0 TDI, 1.968 ccm capacity Performance tuning: ABT POWER Performance: 195 HP/143 kW (standard: 170 HP/125 kW)
ABT ENGINE TECHNOLOGYEngine: 1.4 TSI, 1.390 ccm capacity Performance tuning: ABT POWER Performance: 210 HP/154 kW (standard: 160 HP/118 kW)
ABT ENGINE TECHNOLOGYEngine: 2.0 TSI, 1.984 ccm capacity Performance tuning: ABT POWER Performance: > 210 HP/154 kW (standard: 180 HP/132 kW)
ABT ENGINE TECHNOLOGYEngine: 2.0 TSI, 1.984 ccm capacity Performance tuning: ABT POWER Performance: 250 HP/184 kW (standard: 210 HP/154 kW)
ABT AERODYNAMICSABT front grill ABT door strip attachements ABT rear skirt set with exhaust system ABT rear wing
ABT SUSPENSIONABT suspension springs
ABT WHEEL TECHNOLOGYABT designer light alloy wheels in 18 to 20 inch Available also as complete set of wheels with sports tyres